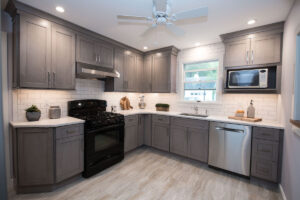 A kitchen should not just be efficient and functional; it should also reflect your personality and seamlessly blend with the style of the rest of your home. This is where an experienced kitchen designer excels. 
At Five Star Kitchen Design Center, our team works closely with you to create a space that not only maximizes every square inch of your kitchen's footprint, but also reflects who you are and how you live. 
The kitchen and beyond project we highlighted below is just one example of our work. Visit our Inspiration page and Featured Projects section for more imagery.
A Sleek, Modern Kitchen Design
We redesigned and built a new kitchen for homeowners in Chatham, NJ using gray and white tones.
The cabinetry is Fabuwood's Galaxy line in the Horizon finish, which is a gray stain with pink undertones that allows the color to adapt to its surroundings. The floor to ceiling cabinets complement the gray wood flooring. At one end of the kitchen, we capitalized on all available space and created storage room in a diagonal cabinet.
The Silestone Pearl Jasmine Suede countertop runs throughout the kitchen, giving it a clean and modern style. The white subway tile backsplash pairs beautifully with the white countertop and cabinets.
The choice of gray and white through the kitchen was finished with silver hardware.
Building a Beautiful Storage Space
On the side of the kitchen, off the work area, a half wall gave a peek into a room that was underused.  At the edge of the partial wall were steps leading down into this extra area that needed to be transformed.
The owners had a large collection of books, and wanted a beautiful and peaceful library, so we built an expansive bookcase with white Dura frameless, full overlay cabinets to display them and keep them handy. The top of the bookcase was perfectly aligned with the top edge of the partial kitchen wall, so from the kitchen, you can look down into the new library space.
Window Seating Area Provides Even More Storage
With all those books to read, what better place to leaf through them than on a cozy cushioned window seating area? The Craftsman white seating area was built along a wall which featured a slope in the ceiling toward the picture window. When you design custom cabinetry, this is an easy challenge to solve. Our cabinets were cut to fit into the exact space, utilizing every inch available. No one would ever guess this tailored window seating area wasn't part of the original design of the house.
We used the same style, color, and design for the cabinetry in the seating area and bookcase for a polished and cohesive look.
The cabinets surrounding the window seat included 4 cabinet doors, and 2 narrow drawers. This provided plenty of space to store games or holiday decorations. Along the bottom of the seat, there are 4 matching ample pull-out drawers to store blankets and pillows for the seating.
Stunning Storage Where You Need It
When you're looking to create storage space throughout your home, built-in cabinetry provides beautiful functionality with a seamless look. After all, cabinets are not just for the kitchen! 
To turn an empty room into a library, have you thought of using wall space below a picture window to add cabinets and bench seating? This workhorse addition provides pull out drawers for your extra supplies while the cushioned seating that caps it off gives you a comfy area to rest and read or chat on the phone.
When this window seating is flanked on either side by matching cabinets, it looks smooth and polished while giving a home to all your belongings. 
Finish off the space with matching hardware – pull knobs for the doors and sleek handles for the drawers. A simple yet elegant look that's highly functional.
Looking to transform your kitchen space? Schedule your complimentary design consultation.