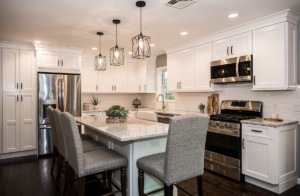 When it's time to reimagine a kitchen, most homeowners know what colors and style they prefer, and whether they need more storage (the answer to that one is always a resounding YES!), but they don't necessarily know how to best utilize the space to create a new, more functional floor plan. Don't worry, that's what Five Star Kitchen Design Center does every day. We even tend to find space for an island when others think it's just not possible, as we did for the project below.
Even Small Floor Plan Changes Create Big Results
For these homeowners, the old kitchen floor plan just did not work, as the space felt cramped and counterspace was minimal thanks to an intrusive doorway. The new layout we created replaced that doorway with pantry cabinets and a refrigerator, and what a difference this tweak makes.
Why was this critical to the design? By removing the cabinetry from the wall opposite the sink, we now had plenty of space for a sleek kitchen island. And moving the fridge to the new wall space, gave the homeowners a much more efficient workspace with a triangle of sink-island-fridge.
Lighter Tones and Taller Cabinetry Transform this Kitchen
While the natural wood tones of the old kitchen were not unattractive, the amount of "earth tones" essentially made the space feel closed in. Our design creates a lighter vibe.
The new Fabuwood full overlay cabinetry in Frost enables the light to bounce off the elegant light fixtures, giving the whole kitchen a brighter glow. And removing the soffits so that cabinets and trim can run up to the ceiling not only provides for more storage, it also makes the ceilings appear higher.
The overall soft white look continues with the subway tile backsplash and gorgeous apron front sink. The various shades of white, gray, and black marbling in the LX Hausys countertop in Everest pulls everything together, and using the same countertop for the wall counter as the island counter helps unify the space, giving it an organic flow.
Cabinetry Features Focused on Organization
The pantry cabinets next to the refrigerator feature shelves that glide out so you can reach everything easily. We also added a pull-out cabinet next to the stove, which keeps cooking utensils standing up and ready to go – no digging into crowded drawers or cluttering the countertop!
A Fabulous, Functional Island
The island is not only a feature in this kitchen, it is also incredibly functional. The front is a spacious worktable that provides seating for three on the other side. Plus, the cabinets contain roll out drawers that keep cooking accessories neat and accessible.
The layout, the design, and the special features all come together to make this renovation glamorous and super functional!