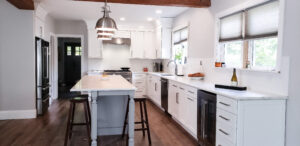 At Five Star Kitchen Design Center, we find out what isn't working for you in your kitchen, as well as how you want your kitchen to function and look so we can create a design that perfectly fits your style and lifestyle.
In this project, the small kitchen was isolated and felt confined because of the dark wood tones and the inefficient use of a too-small island. In addition, the counter of the main wall ended abruptly because of the placement of large windows along that wall. The empty wall beyond the end of the counter was dead space, awkwardly underused. Basically, this kitchen was cramped and lacking workflow, as well as working and storage space.
We listened to the homeowners' frustrations and could immediately see ways to improve the space overall for maximum enjoyment.
From Cramped to Grand: A New Kitchen Island
The original island had almost no counter space on either side of the range. We moved the range to the outer wall and replaced it with a combination stove and oven unit.
Our homeowners are thrilled that their new 10-foot island now offers an expansive food prep area that allows them to prepare all their dishes for holiday get-togethers. Extending the kitchen footprint allowed the new island to be much longer than the original.
Underneath the counter, we added easy access to a built-in microwave and spacious drawers for storage. There's also an open sitting area at one end of the island for the owners to sit face to face at a meal. 
An Extended Counter Provides Ample Prep Space
Resizing the second set of windows was the magic trick allowing us to gain space elongating the kitchen area. This gave us room for additional cabinets and a new, longer counter, providing much more space to work and to place small kitchen appliances. A new wine fridge is tucked under the extended counter with ample light from the newly resized windows above.
To create a sense of cohesiveness and emphasize the elongated space, white subway tile runs along the entire length of both walls above the counter. 
The sleek and modern accessories all match the stainless steel appliances and light fixtures, with the same bar pulls mounted on every cabinet door and drawer for design consistency.
White Cabinetry Creates a Clean Look
The Fabuwood Allure Galaxy cabinets in Frost brighten the room and help give it the appearance of being larger. Incorporating uppers in only one end of the design opens up the space where it once felt so closed off and cramped.  We maximized storage space and ease of access by including utensil pull outs, peg boards, dividers, and a spice drawer.
Designing With You In Mind
When designing kitchens, we consider everything about how you live and how you want to use your kitchen. In this home, one homeowner was over 6' tall, so we knew we wanted a range hood that was placed high above the cooking area, giving our tall homeowner enough room to work at the stove without bumping his head.
The other homeowner had worked in commercial kitchens for years, and was used to a process that required certain tools and accessories to be situated to the right and some to the left. Having a system in place is beneficial for complicated recipes or busy weeknight cooking, so we knew the placement of tools in relation to the stove was important to our homeowner and critical to workflow.  And sometimes even something as simple as having two waste receptacles in different areas of the kitchen is incredibly time-saving and helpful!
What are your current kitchen limitations? What are your future kitchen dreams? We can't wait to work with you in making your new kitchen meet all of your home cooking goals.