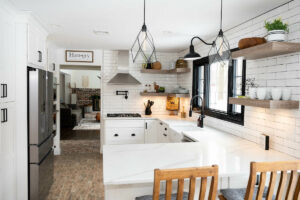 When it comes to renovating a kitchen, you may think that space constraints will make it impossible to create something beautiful, or that there's no way to increase your work and storage space. At Five Star Kitchen Design, we believe that every space can yield an incredible transformation and result in a stunning and spacious feeling kitchen – with the right design and cabinetry.
This kitchen in West Nyack was no exception. Starting out with a traditional U-shaped room with insufficient space for a kitchen island, we saw plenty of opportunities for a beautiful upgrade and ways to make the room feel more open and airy.
A Creative Design that Emphasizes Space
The color scheme of white with grounding earth tones and black accessories creates a natural, fluid kitchen for our clients. Running the white subway tiles from counter to the ceiling along the stove and the sink walls expands the visual height of the room, while combining the gorgeous Galaxy White Fabuwood cabinetry with white ceiling/walls and a wood toned floor exudes an open and airy vibe.
The floating shelves in a mid-tone wood provide ample display and storage space. Opting for floating shelves over traditional cabinets, allows this kitchen to feel more spacious. The two sets of floating shelves connect the adjacent walls, seeming to wrap around the space while utilizing every inch of that corner.
Floating shelves take little physical and visual space, so in a smaller kitchen, swapping them for closed cabinets can make the room feel bigger and brighter. And for home cooks, these shelves are a convenient place to keep tools, ingredients, and serving dishes within reach and sight.
Artistry and Functionality at the Sink Wall
The large picture window in the center of the wall looks stunning and dramatic surrounded in black trim. Overhead, it's crowned with a matching black lamp, and underneath, your eye is drawn to the industrial style black pull down faucet. This choice of faucet design is great for minimizing splash and mess. Continuing black trim in the wall spaces and fixtures creates a clean, cohesive look.
A great choice for exuding the feeling of a spacious kitchen is an apron sink. They're extremely functional, showcase both a modern and traditional look, and have a rim around to keep the water inside the sink, making cleanup quick and easy.
Beverage Bar
At the back of the kitchen, we incorporated a beverage bar that coordinates with the open shelving. It's the perfect place for grabbing a cup of coffee or a glass of wine.
Looking to transform your kitchen into an inviting room that functions for your lifestyle? Make an appointment with one of our designers and see the magic that we can perform.