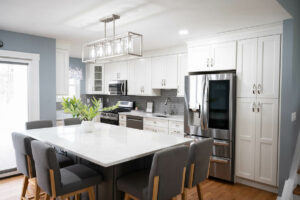 Are there things about your current kitchen you'd love to see gone? Like a dated color scheme that drains the energy out of the room? Or an entrance or wall that's cutting into usable kitchen space?
Maybe you're dreaming about design features you'd love to incorporate, such as the always-popular kitchen island, special function cabinets, or the addition of a beverage bar.
Bringing Your Vision to Life
We respect your desires and preferences and find ways to make your goals a reality. 
In the kitchen highlighted below, we were able to maintain some of the original layout in our design, while still creating the major makeover our client wanted. The placement of the sink, dishwasher, refrigerator, and range/oven worked well for the homeowners so we maintained their locations. They did not need the entrance to the lower level of the home – which was cutting onto the flow and function of the kitchen – so our design closed it and used the wall space to install a double set of cabinets for a full pantry. And we gave the room a "brightening treatment" with Fabuwood cabinets in Dove White, gray subway tiles, gleaming chrome hardware, and a sleek gooseneck faucet.
A Kitchen Island Expands and Unifies the Space
We tend to find a way to work a kitchen island into a design where others may not see the possibilities. For this kitchen, we incorporated a full-sized island with plenty of storage, including deep-set drawers for pots, pans, small appliances, tools, and accessories. This kitchen island also integrates a dining table with plentiful seating for every day meals and lots of space for spreading out a feast at social gatherings.
As an added benefit, its placement creates a boundary between two areas; the cooking and dining area are now organically separated by the kitchen island that flows out of the kitchen and into the adjoining area. 
Functional Cabinetry Features
The new cabinets are not only stunning, they are also packed with storage features like the Rev-A-Shelf sliders that give the homeowners a spacious, convenient pull-out spice cabinet underneath the counter across from the stove.
And with all those pots and pans and gadgets now stored in the island cabinets, we were able to install a beverage cooler in the lower cabinetry. A wine fridge doesn't need its own space, and some models are made to be built in among the cabinets under the counter.
Did we mention the gleaming hardware? Often overlooked, hardware is a kitchen's jewelry. Here, we used Top Knobs Eyebrow Cup Pulls and Crescent Pulls in Brushed Satin Nickel.
As you can see from this project, if you like your kitchen's floor plan, there's no need to tear it all up – we work with you to keep the features you love and remove what's not working for you. Let us make your kitchen makeover a much-needed reality!