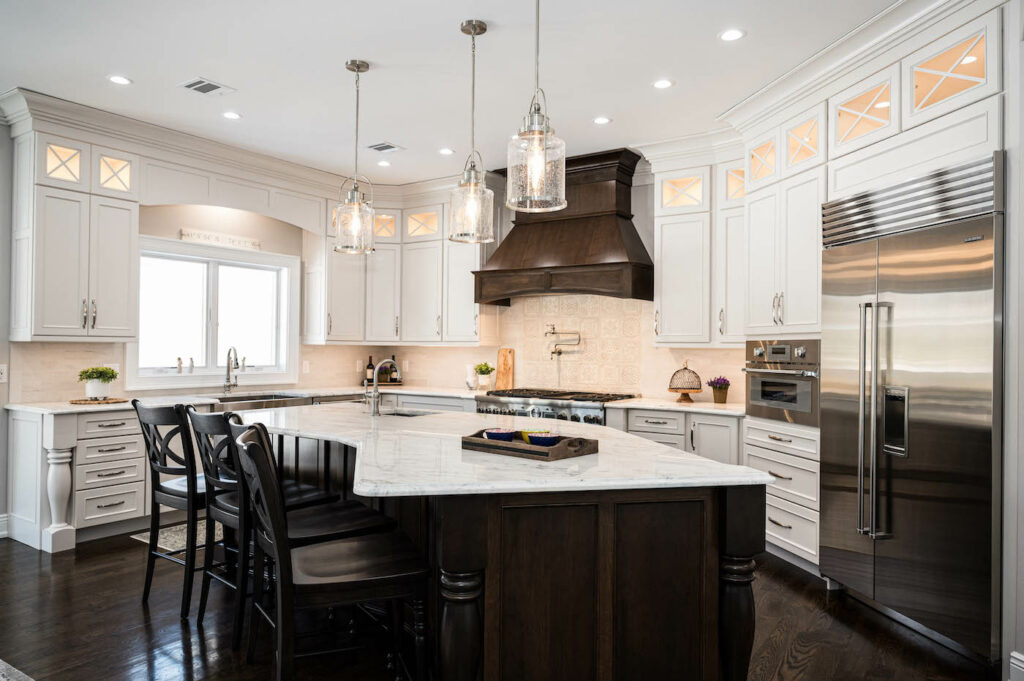 Whether your kitchen is small or spacious, you may still have to deal with a challenge in its original design. Perfect kitchens you see in magazines are created from simple and clean rectangular shapes. What happens when your home's original floor plan includes a kitchen with odd corners and angles? 
If your kitchen layout is not meeting your needs for today and tomorrow, Five Star Kitchen Design will work with you to transform your kitchen from basic to beautiful.
When your floor plan has built-in challenges, you won't find what you need "in stock" at the big box stores. Only experienced kitchen designers can give you the transformation you're looking for by creating the look you want in a custom design to perfectly fit your home.
Featured Kitchen Design Project
One recent project in Mahwah NJ gave us the opportunity to showcase what we can do in any situation.
A kitchen with angled walls can look elegant and charming if the cabinetry and counter space is planned and installed with care. What started out as odd corners in the original kitchen actually contributed to the wow factor when designed with expertise and experience.
The homeowner knew that they wanted more working space and storage solutions but were concerned that their oddly shaped floor plan would prevent that from happening. They had always wanted a large kitchen island but couldn't envision it because of the angle in the floor plan.
A Stunning Solution
With our years of experience, we custom designed and installed a kitchen island that matched the shape of their kitchen. Instead of looking awkward, it raised the level of artistic elegance and modern feel. The kitchen island gave them a huge working space, comfortable seating for 4, plus a secondary sink and faucet matching their farmhouse style sink and faucet at the main counter area. The new island gave the look of a seamlessly expanded kitchen as the countertop matched the main counterspace. 
For the cabinetry, the homeowners selected framed, full overlay Crestwood cabinets by Dura, in white. Chapel Hill Panel Plus cabinet doors provided storage up to the ceiling. 
The new 60×42 Stanisci range hood was stained in the same Mocha color cherry wood as the island cabinets, tying these 2 elements together.
A Functional Kitchen with Artistic Touches
Bringing your eyes to the ceiling and taking advantage of every inch of storage are a set of full height 2-section cabinets, each crowned with glass doors on the top section. The Hafele cabinet lighting gave a luxurious touch to the design and brightened the kitchen.
On either side of the range, we installed smooth, curved posts. While they add to the elegance of the kitchen, they also provide a clever secret: at a touch of your finger, each "post" pulls out to display a spice cabinet on one side, and a tray storage cabinet on the other end.
Hardware by Tob Knobs in brushed satin nickel added the finishing touches. The beauty of the unique kitchen island was spotlighted by the gleaming task lighting above the space.
While homeowners focus on the challenge of their current space, we see gorgeous possibilities. Let us transform the most important room of your house to enjoy for years to come. 
Schedule your complimentary kitchen design consultation.