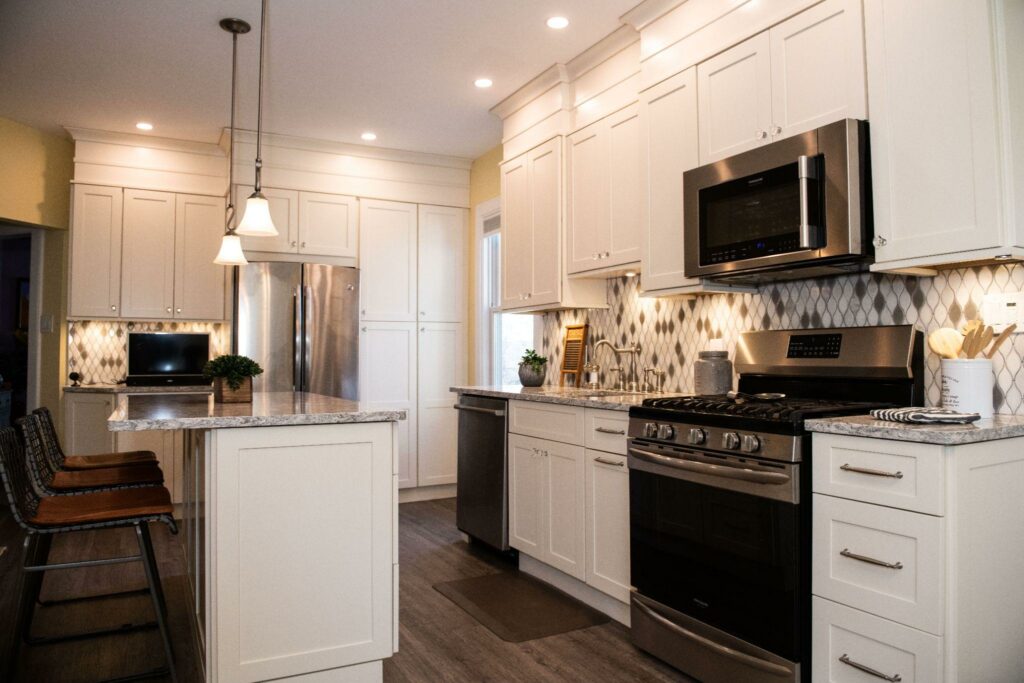 A kitchen is more than just a place to whip up a bite to eat; it is often a gathering place for friends and family. So when planning your kitchen renovation, it is best to review what you wish this space could do for you and your family that is not happening today. Do you need more storage space? Could you use a larger counter or island working space? Can you imagine a comfy nook with a cozy fireplace?
Kitchens from 50 years ago were never set up to perform to today's demands. We have more cooking tools, gadgets, and small appliances so we need the storage space to accommodate them while keeping our counters clear.
In a recent Pearl River, NY kitchen design and installation project, the homeowners' essential needs required more storage and counter space. Going beyond the basics, their wish list included a small fireplace and a breakfast nook. Transforming your kitchen into exactly what you envisioned is what we do best.
A Design that Incorporates the Homeowners' Requirements
Our customer felt confined by the lack of storage and workspace in their current kitchen. They were constantly running out of space in the cabinets, and the countertop area was nowhere near large enough for the family to prepare everyday meals and holiday cooking projects. Their kitchen design was further challenged by a long and narrow kitchen floor plan. On top of this, they wanted to add a beautiful sitting area facing a fireplace for family and guests.
Our experienced and skilled kitchen designers start with your available floor space and redesign how it is being used. We are experts in "finding more space" for our clients by reimagining and repositioning the layout to accommodate your requests.
A Kitchen for Gathering and Cooking
We installed Fabuwood cabinetry throughout the kitchen and created a breakfast nook with banquette seating. Under the seat cushions are new cabinets for additional storage. What used to be a plain, empty wall directly across the nook now features a new Inn-Style fireplace, encased in the same cabinetry. The cabinets throughout the kitchen feature the same linen color for a consistent look that appears to enlarge the area.
A Kitchen Island Provides Storage and Work Space
We added more work and storage space by creating a kitchen island. Not only is an island beautiful, it is also a triple workhorse: it provides a large counter workspace, a seating area, and plenty of drawers and cabinets for storage. This kitchen continues the same Cambria countertop on the island as the rest of the kitchen, so the eye sees the whole room as an expansive space. The island countertop gives the homeowners all the room they need to prepare meals, even when more than one cook is on duty.
The island also provides the owners with plenty of drawers and cabinets to store all the utensils, tools, and small appliances out of view yet handy when needed. Three counter-height chairs at the end of the island provide plenty of room to enjoy a meal or grab a snack.
Beauty and Functionality – a Kitchen Design for Today and Tomorrow
We added a shallow pantry cabinet to the right of the refrigerator which hides a wall that bumps out for even more storage.
With the additions of cabinetry, counterspace, and welcoming fireplace, this new kitchen will easily serve the needs of the homeowners for years to come. Our expertise is in transforming your current limiting environment into a room that works hard for your family while looking stunning in a design that is custom-suited for you and your house.