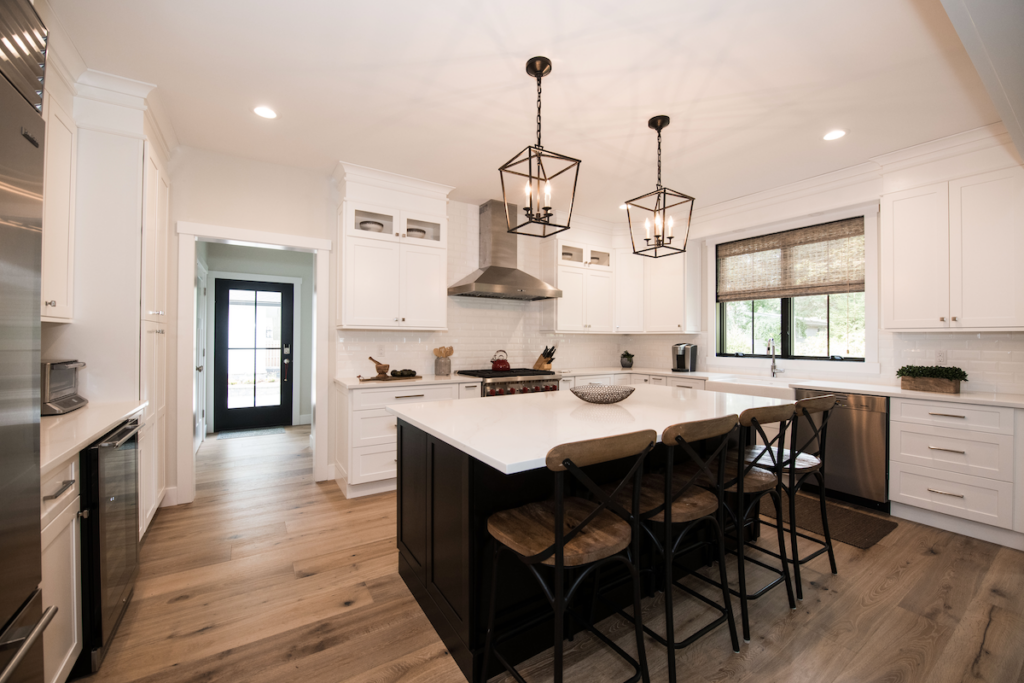 Today's kitchen design trends offer many options for your dream kitchen. Cabinetry comes in traditional looks and exciting new features. Choose from closed cabinet doors in a clean or ornate style, or glass front for displaying your serving ware. Cabinet hardware today is becoming the star of the show, with oversized handles in beautiful designs. And cabinet drawers now come with custom inserts to organize all your tools! Not to mention all the countertop, backsplash, lighting, and flooring options!
When you're planning a brand-new kitchen it's easy to let the excitement overwhelm you and distract you from envisioning how all the details will come together. The designers at Five Star Kitchen Design Center are here to guide you every step of the way. We ask the right questions to uncover what you want your kitchen to look like and how you want it to function, then design a kitchen that maximizes your space and brings your vision to life. The project below is one example of our work.
A Kitchen Design Project in River Vale, NJ
The mostly white features of this kitchen design make the room bright, while the warm wood tones of the flooring give it an earthy feel. 
The large kitchen island in a full, traditional rectangular shape gives this homeowner more than enough space to cook for a whole family holiday, or to accommodate more than one home chef working at a time. Spacious, bright, and modern, this classic kitchen will create many delectable dishes and family memories for years to come.
Ample Cabinetry Storage Above and Below
Tall white Allure framed full overlay cabinets by Fabuwood stand tall along the walls, giving the homeowners plenty of room to store tableware and serving pieces. Balanced on either side of the large stainless steel range hood, are two overhead showpiece cabinets with glass doors to display their treasured serving pieces.
Below the counter are plentiful drawers and cabinets for storing larger and heavier pieces. In following popular trends, our design incorporated large pull-out drawers on either side of the oven for easy access to heavy cookware and everything you need to create your meal.
A Workhorse Kitchen Island
The Galaxy cabinets and drawers of the large island look modern and sleek in the Espresso color, adding warmth to balance the white design motif and offsetting the gleaming satin nickel hardware.  Our layout featured an open floor plan so that whoever's on chef duty doesn't miss out on conversation in the living room.
The smooth full-sized rectangular island counter features ample food prep space, and also provides a convenient space for dining and snacking, with plenty of room for four counter-height seats.
Below the counter, nestled among large drawers and a cabinet, is a full-sized microwave. These island microwaves use a new technology which eliminates the need for a turntable so there's less to clean. As you're cooking or defrosting, the in-island microwave makes it easy to transfer food to and from the counter without having to walk across the kitchen carrying a hot dish!
Every Kitchen Can Feature a Wine Bar
By the large double door stainless steel refrigerator, we accommodated a full-sized wine fridge with several shelves to store a growing collection of wine. And just above that counter space is a lovely double door cabinet with glass fronts so that a complete collection of wine glasses can be displayed.
Along the same wall are floor to ceiling cabinets that store all the kitchen and dining pieces you need for every dining occasion. 
Finishing Touches
Keeping in line with the smooth and clean look of this professional looking kitchen, our design for the walls featured white subway tile. The large white farmhouse sink adds the finishing touch to this kitchen, ready for the serious chef to start the meal.
 Whether you're a quick and easy home cook or an expert chef, Five Star Kitchen Design Center will create your dream kitchen to use with pride for years!