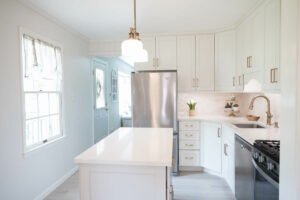 Have a small kitchen you want to transform into something stylish and functional? At Five Star Kitchen Design, we can work magic!
We Take Every Inch of Your Kitchen into Account
We don't just give you new cabinets and countertops. Our award-winning designers and cabinet pros work with your home's spatial constraints, floor plan, workflow, your family's changing dynamics, what's not working for you, and the goals for your kitchen. 
You may not believe there's much hope for your small kitchen, but we have a history of successful transformations that you need to see to believe! The project below is an example of how we optimized every inch of space, including the installation of a beautiful and functional island. Yes, there was room for one and the space doesn't look crowded at all. In fact, the island enhances the workflow. If you don't have a kitchen island, and you don't believe you have space for one, let us show you how we can make it happen. 
Selecting Beautiful Materials
Cabinets
Dura Supreme cabinetry expands storage space up to the ceiling. To brighten the space and heighten the appearance of the room, the homeowners chose the sleek frameless and full overlay style of cabinets. And you can be sure we incorporated features into the cabinetry to maximize storage. The cabinet doors throughout the kitchen feature the Highland Panel Plus; the doors in the main kitchen section are Dove White and the island in Pearl.  
Hardware and Backsplash
The straight door handles in a modern gold tone brings a colorful pop and shines against the white cabinets and backsplash. The subway tile gleams across the kitchen, adding to the shine and the light color choices to open the space.
Countertops
The countertops of both the kitchen and the island are coordinated in Cambria Whitby for a continuous and fluid design.
A Kitchen Island that Fits Just Right in a Small Space
The countertop along the wall gives some space for home prep and cooking but is interrupted by the position of the refrigerator at one end, the stove on the other end, and the sink in the middle. For uninterrupted workspace, we knew this kitchen would greatly benefit from the unbeatable functionality of an island. 
The island gives the homeowner just enough working counter space above and extra storage options below, without sacrificing too much floor space or making the workflow crowded. In fact, with our placement, the island countertop is within easy reach of the refrigerator, stove, and sink, making food prep and cleanup a snap and improving the workflow.
With 2 top drawers for utensils and linens, 2 large drawers for pots and pans, and a cabinet for appliance storage, the small island is quite the workhorse and the star of the room. 
Looking to transform your small kitchen? Schedule your free consultation today!