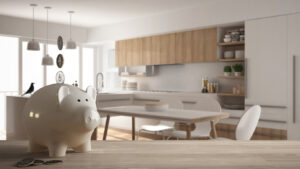 Whether you're planning a modest kitchen remodel or a full kitchen renovation, you'll want to budget your project properly. Unfortunately, since the pandemic, the cost of supplies has increased significantly, so it's important to be aware of each type of purchase, what it costs just to buy the material, and what the labor involved will cost. And when planning your expenditures, it's safest to assume that your project may include some unexpected additional costs, and perhaps even unearth problems like dry rot and mold, so you'll want to be sure to leave room in your budget to cover them.
The good news is that there is flexibility in how and where you spend your kitchen dollars. Here are some things to consider when creating your budget.
Decide on Your Kitchen Design Priorities
The first step is to be sure of what you really need versus what you'd like. Thinking through what you use your kitchen for, who uses it, and how often should help flesh out your true needs. For example, while the magazine photo of the 6-burner stove is lovely, if you and your spouse are empty nesters who don't veer past the basics in daily cooking, then you can save some money by choosing a smaller and more modest appliance, which allows you to allocate that money toward another kitchen feature that's more important to you.
After you've arrived at a cost that you can manage – and have planned out your "must-haves" and "nice to haves" – your next move is to talk to your kitchen design team.  Experienced kitchen designers, we provide our clients with invaluable ideas on optimal layouts and how to adjust choices for financial constraints that you may never have considered, because we've done hundreds of kitchens just like yours. We know a few tricks of the trade! 
Consider the Need, Design, and Cost of Each Kitchen Component
Break down the expenditures of your new kitchen project into a checklist that includes:
Cabinetry

Appliances

Countertops

Plumbing/Electric

Flooring/Lighting
Each of these major parts of your kitchen can be adjusted for your budget. For example, if you want to add a kitchen island, you can look at the cost of one with a sink versus no sink. This will significantly impact the plumbing and hardware expenses.
Is your electricity up to code and are you satisfied with the number of outlets in the kitchen? Just the cost of electrical updates alone can dig into a budget.
Understand Today's Costs When Creating Your Financial Plan
When we work with our clients, we ask detailed questions to gain clarity into their priorities and goals; and that helps us help them shift the dollars in their budget. For example, we carry cabinets of all different prices, varying by the finish and color. So even if your budget is constrained, we can modernize and renovate your kitchen, with the understanding it won't be luxurious.
At current prices, you can plan on spending $10,000 to $15,000 for a new package of appliances. Countertops likely come in between $5,000 and $10,000. Today's kitchen cabinets cost around $20,000 for a basic line; but more high-end cabinets can go up to $100,000 or more.  There are many cabinet lines and some will fit your budget nicely. We're here to work with you: give us an idea of your budget, and we're happy to show you what can work for your kitchen renovation.
Are You Planning Construction?
A professional kitchen design studio can draw up plans for the material and layout. Please keep in mind that if you want new flooring, walls knocked down or moved and windows installed, you'll need to add in the cost of contractors and their materials to handle the construction work. And if this is the case for you, we have contractors we love working with and trust.
At Five Star Kitchen Design, we love making every kitchen project a success, and our homeowners pleased beyond expectations. If you're considering a new kitchen, come visit our showroom.