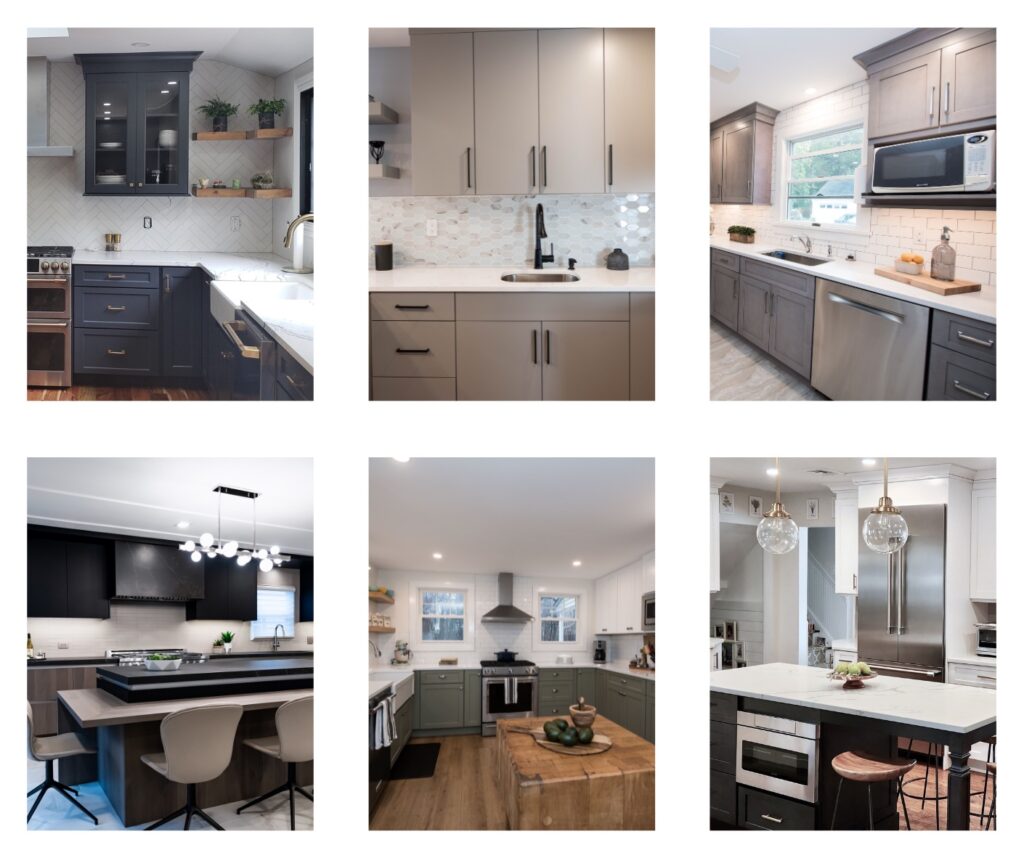 All-white kitchens have had their glory for a few years, and are still a popular and classic pick. With the ability to make a kitchen look brighter and larger, white cabinets will be a popular choice for years to come.
But right now, colorful cabinets that showcase personality and make a kitchen pop are back in popularity. If you're looking to renovate your kitchen and are craving beautiful, rich, and modern colors that will stay on trend for years, this guide will open the doors to colors that will turn your vision into reality. 
Today's Top Kitchen Cabinetry Hues
Earthy, Neutral Taupe And Wood Tones
The colors of the outdoors are coming into the kitchen! White kitchens are giving way to neutrals like beige, mushroom, and taupe for a space that's warm and inviting with depth and dimension.  The outdoor color palette is a popular choice for homeowners who prefer natural elements in their interior design. For those who are drawn to a more modern rustic style, shades of brown add warmth to kitchens, making the space feel more cozy yet sophisticated – and the colors look great in contrast to stainless steel appliances.  Cocoa is another versatile option which can create earthy vibes with a darker style.
Shades Of Green
Choosing green cabinets for your kitchen is a great way to bring the lush feel of nature indoors. Green has the ability to simultaneously add calm and energy to a room when paired with other earthy tones. So many shades of green look amazing in a kitchen, from a deep forest, to a rich olive, to a light mint. Forest green cabinets are currently very popular and can feature yellow and gray undertones.
Grays
Years ago, gray was the clear winner in cabinetry, but it tended to have a colder feel. Today's grays are warmer and more inviting. Paint companies are making shades of gray that can work well with the warm or cool tones of the other elements of the room. The new shades feel soft and comfortable in either a modern or a transitional kitchen. Lighter shades of gray cabinetry, like stone, help reflect the light and make the kitchen feel more open without having to stick to all-white.
Dark Blues 
Navy blue cabinets have been a popular choice over the last few years because of their classic look. This year, the most chosen shades of blue tend to feel a bit earthier. Blues can be very calming, especially when adding hints of smoky gray. The overall look is peaceful and clean with a contemporary vibe. Deep, dark blues, like a strong navy, create vibrancy and drama in the kitchen and allow gorgeous metal hardware to pop – just be sure to select a shade of blue that works well with the silver, gold, or bronze of your hardware. 
Black
Black cabinets continue to grow in popularity as another way to personalize your kitchen. While you may not think of black as having different shades and tones, you'll spot some modern kitchens using a black that's more like a deep blue or gray rather than jet black. Black embraces earthy esthetics with colors named espresso, peppercorn, charcoal and iron ore. These dark cabinets can be used to exude a sophisticated or minimalistic vibe. Not interested in all black? Use it as a secondary color in a two-toned kitchen.
Color Duets
One current design trend is to use a combination of cabinetry colors. Using white for the wall cabinets and black on the island cabinets is quite popular. Using two colors, even if both colors are neutral, is a great way to add visual interest and break up the monotony, especially in a very large kitchen. The lighter of the two colors don't need to be the standard bright white – you can use the earthier tones of black to pair with creamier colors for a soft and inviting look. Using two colors, however, can disturb the flow of a kitchen if not done right – this is where a kitchen design professional can help.