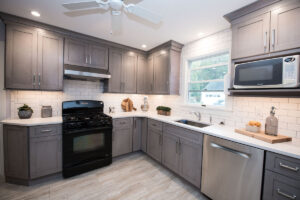 If you're looking to renovate your kitchen, you may be wondering what kinds of cabinets can make the best use of the space? As kitchen designers, we can tell you that corner cabinets can be a sneaky smart way to utilize every inch of space in any sized kitchen. And with today's engineering innovations, there are so many ways to not only use the space, but also make it a beautiful design feature.
Here Are 8 Ideas to Optimize Corner Cabinet Spaces
1. Lazy Susan Cabinets
The classic storage option for corner cabinets makes use of a Lazy Susan. This turntable shelf makes it easy to grab your spices and often-used dry ingredients. Or you can use it to store small tools and appliances you want handy but not taking up space on the counter. The round shape and spinning functionality make the Lazy Susan a true classic for a good reason: it solves the problem of storing things on regular shelves in a hard to reach area. 
2. 3-Drawer Cabinet System
A 3-drawer kitchen corner cabinet can be both functional and beautiful. All your items are now within easy access and neatly organized in a set of 3 pull-out angled drawers. It's a good idea to install hardware on both sides of each drawer so opening and closing goes smoothly every time, and the hardware amps up the designer look.  You can add compartments to store everything from cutlery to dry goods. Whether you split the space evenly or stack them smaller to larger, the 3-drawer system will help you use your corner space practically and aesthetically.
3. Floor To Ceiling Functionality
Can an awkward corner be the star of your kitchen? Absolutely! The ultimate way to make the most out of a kitchen corner is by flaunting the space with floor-to-ceiling shelving. Voila – you now have a lovely custom corner pantry.
You can elevate the beauty with a clear or frosted glass door or leave the shelves out in the open. A corner pantry is the perfect way to make use of drawers and cubbies for storing bulky items, keeping your countertop clutter-free.  
4. Garage Cabinet Door
If you have a small kitchen where pull-out drawers won't work, a corner cabinet with a garage door will solve that problem. It also makes a visually clean accent when you combine it with a minimalist kitchen design as it stores items while adding a unique look.
5. Blind Corner Cabinets
Eliminate dead space near the stove with blind corner cabinets. They're great for storing and organizing cookware. By adding two easy-access shelves inside the corner cabinet, you can get your hands on your baking pans, pots, and frying pans without having to sort through piles of items.
6. Collectibles Corner Cabinet
Instead of hiding odd corners, use it as a design advantage and don't hide it at all. Showcase your collections in a corner cabinet with a glass door. It looks great in any style kitchen and keeps your treasures safe. Open corner shelving is a common option for displaying colorful small appliances, large bowls, and decorative kitchen items. And the shelving is easy to integrate with the decorative style of your upper cabinets or drawers.
7. Swinging Pullouts
Swinging pullouts are a perfect way to maximize corner cabinet space. They provide easy access and keep clutter hidden away.
8. Curved Cabinetry
Curved kitchen cabinets are a surprising and bold look. Beyond style, they offer extra storage solutions and minimize empty space. With rounded corners, drawers can be installed in the corner of the cabinet to create an additional pantry area and allow for easier access to all your stored items. This is a stunning way to maximize storage in your kitchen and show off a custom design.
Have an odd corner? It's no challenge for Five Star Kitchen Design. We are experts at optimizing your kitchen storage within a stunning design.